Best Make-Ahead Thanksgiving Tips for a Low Stress Holiday
Written by tyemedical on Nov 21st 2019
Most of us love the holidays and traditional family meals, but…it can get a little hectic! This year why not consider a make-ahead Thanksgiving Dinner feast that allows you to manage your energy and time with much less stress. Don't worry, we've planned it out for you! You can use these recipes or substitute your own, but either way, you'll love this easy-going approach to holiday cooking!
You'll find baking and reheating instructions in the Thanksgiving Day schedule below.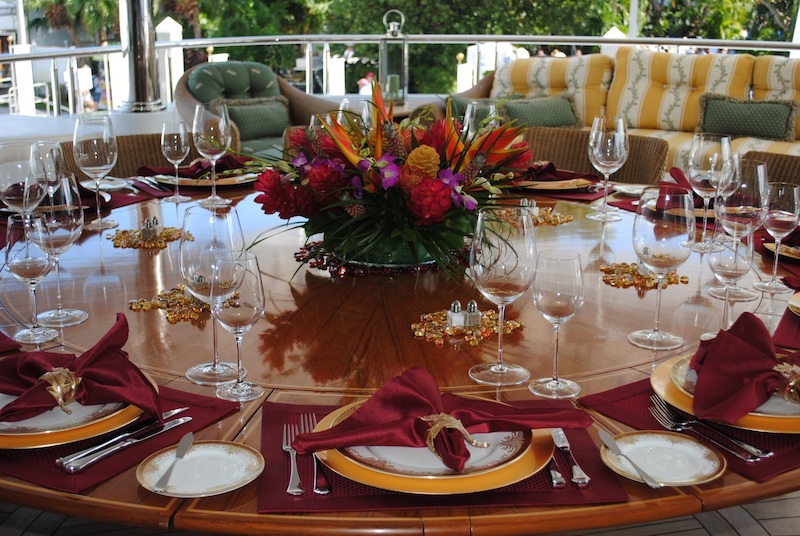 Timing Your Turkey
Before diving into the schedule and dinner items, let's consider when to serve your turkey. Most of us don't want to get up at 6 a.m. on Thanksgiving Day to put a turkey in the oven. So, if you plan your dinner for 1:00-2:00 p.m., then you can rise a little later and have your turkey in the oven by eight or nine in the morning.
A later meal gives you some additional time for rest, but what about your hungry guests?
When tummies start rumbling around lunch time, try serving a starter like a hot bowl of autumn soup. Don't worry about additional work. You'll make this soup a week or two in advance and can simply move it to the fridge the day before. Problem solved!
Make Ahead: 1-2 Weeks
If you really want to streamline your holiday dinner, get started with make-ahead Thanksgiving dishes one to two weeks prior to the big day. You can put your freezer to good use, but remember to clearly label each dish, and if you're feeling ultra-efficient, you can include on the label when and how to reheat each menu item.
Some dishes will require thawing before reheating, but most can go straight from freezer to oven or stovetop. We love the convenience of a make-ahead Thanksgiving!
Autumn Soup Starter
Does your family have a favorite cold-weather soup? Maybe one you don't make often? If you have something in mind, you can whip it up at least a week ahead of time. Not sure what to prepare, consider these fall soup recipes fromDelishand start planning now!
Whipped Sweet Potatoes
Get a head start on your side dishes, and nothing says autumn like a fantastic sweet potato dish. Whipped sweet potatoes have an edge over their candied cousin, because there's no added sugar and you can freeze it ahead of time!
Cube and Prep Bread for Stuffing
Unless you're using an instant stuffing mix, you will need some breadcrumbs. A couple days before assembling your make-ahead Thanksgiving stuffing, cube your bread and lay it out to dry.
Classic or Sausage Stuffing
Whether you're making a traditional stuffingorsausage stuffing, you can include it in your make-ahead Thanksgiving. Use your already prepped homemade bread cubes and then freeze the bread mixture before adding the stock and egg. You'll add those on Thanksgiving Day before sliding the stuffing into the oven. No need to thaw in advance.
Cranberry-Fig Chutney
Do you want to serve a top-notch cranberry sauce as part of your make-ahead Thanksgiving? Here's ano-fuss recipethat will thrill your guests and make your Turkey Day a breeze! Of course, you can substitute your own recipe. Most cranberry sauces freeze well.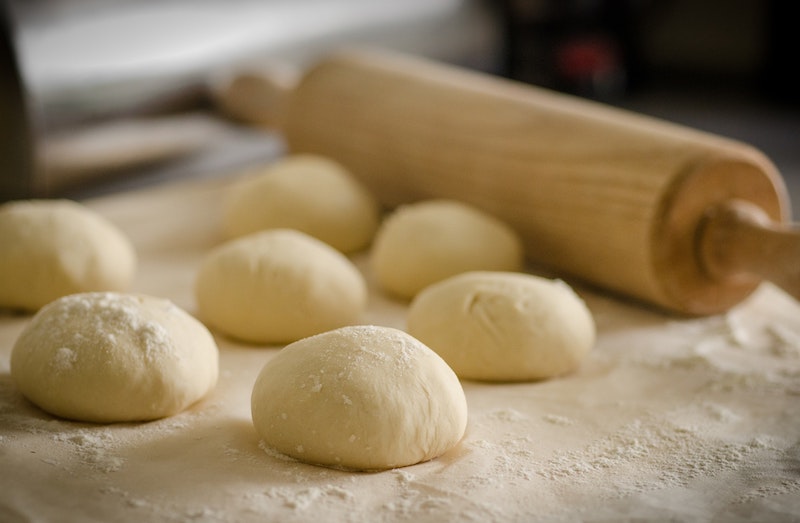 Dinner Rolls
If you want homemade rolls on the table for Thanksgiving dinner, then you'll love this time-saving hack. Use your favorite dinner roll recipe and instead of sliding them into the oven, slide them into your freezer while on a baking sheet. When they're solid, transfer the unbaked rolls to a freezer bag and label. They'll be ready to thaw a couple hours before dinner. Freezing unbaked rolls is the better approach, because they'll taste like you whipped them up that morning.
Apple, Pumpkin, or Pecan Pie
Whether you prepare a homemade crust or secretly use a Pillsbury rollout (gasp!), you can prepare your pie up to two weeks ahead of time and freeze unbaked. On Thanksgiving Day, move your pie from freezer to oven without thawing and bake 20 minutes longer than an unfrozen pie. A word of caution: don't try this with a custard, meringue, or cream pie – they don't fair as well in the freezer. Any fruit pie can be frozen when unbaked.
Thaw Turkey 3-5 Days Ahead
While you're prepping all the sides and desserts, don't forget about your frozen turkey. The size of your bird will determine when you need to move it from freezer to fridge. Butterball recommends one day of thawing for every 4 pounds of turkey. If you're planning to prep your bird the day before Thanksgiving, be sure to take this into consideration. For further instructions for fridge and cold water thawing, check out the Butterball website.
Make Ahead: 2 Days
It's casserole time! Casseroles, salads, and stuffing prep are on your make-ahead Thanksgiving schedule for two days prior to your feast. You can substitute or add in any casserole here, like scalloped potatoes for instance. Once prepared and in the pan, cover the unbaked casseroles and refrigerate until the big day. Don't forget the label!
Mashed Potato Casserole
If you're a traditionalist and want to serve mashed potatoes, you can make them a day or two ahead of time and warm on Thanksgiving Day. However, this make-ahead mashed potato casserole will make your life easier and be a real treat for your guests! The golden crust and creamy potato goodness are hard to resist! Simply remove the unbaked casserole from the fridge and pop it in the oven an hour before dinner!
Green Bean Casserole
Just like the mashed potato casserole, you can make this recipe a couple days in advance, refrigerate it unbaked, and then heat through on Thanksgiving Day. Just remember to leave off the crispy onion topping until it's time to bake.
Prep Autumn Salad & Dressing
Not everyone serves salad with their turkey dinner, but we thought you'd be interested in making an autumn salad part of your make-ahead Thanksgiving. Choose from among these salad ideas and don't skip over Delish's Holiday Walnut Salad, which just might be the start of a new family tradition!
Use this time to wash and prep your veggies and other additions, which will make assembly on Thanksgiving morning a cinch. You can also make your dressing in advance, which gives it plenty of time to set before salad time.
Make Ahead: 1 Day
You've almost made it! Some important items are on the agenda one day before Thanksgiving. Once you've accomplished these goals, your Turkey Day will be all about the bird and presenting all your hard work!
Clean and Prep Turkey
On the day before serving your make-ahead Thanksgiving dinner, the turkey should be thawed. Now is the time to unwrap, clean, and stage your bird. Arrange it in a roasting pan. If you're using an herbed butter, prepare it now and refrigerate. If you're stuffing the turkey, wait until right before the bird goes into the oven. Finally, cover your turkey and make room in your fridge! It's a good idea to determine exactly when you want to have the turkey in the oven on Thanksgiving morning. (If you want make-ahead gravy, save the giblets and neck. See below.)
Turkey Gravy
You might be surprised by this, because most people wait until the turkey is out of the oven before making the gravy. The truth is, you can find many recipes that don't require turkey drippings.
But if you love the enhanced flavor of traditional gravy and still want a make-ahead turkey gravy, we've got a solution! If your bird came with giblets and a neck, you can use these to make your turkey stock for gravy. (Be sure to make some extra stock for finishing off your stuffing on Thanksgiving Day!) Otherwise, you can purchase turkey parts and turkey wings at most grocery stores or butcher shops. When your gravy is prepared, let it cool and store it in the fridge until the next day. Problem solved.
Thaw Cranberry Sauce or Chutney
Remember to remove your cranberry sauce or cranberry-fig chutney from the freezer and place it in the fridge to thaw for tomorrow!
Thaw Autumn Soup Starter
You'll want to move your soup to the fridge so it's ready to heat on the stovetop the next day.
Miscellaneous Tasks
The day prior to Thanksgiving is a good time to ensure you have beverages, tablecloths, napkins, and cutlery staged. Anything else need to be taken care of? Now is the time!
What to Do on Thanksgiving Day
Sure, there's twelve steps, but most of them are very simple and low stress!
1. Final Turkey Prep and Oven Start (Oven 3-5 Hours)
Preheat your oven and make any final preparations to your turkey, including applying herbed butter or stuffing. It takes 2 to 4 hours to roast an unstuffed bird and slightly longer for stuffed birds. Refer to Food Network's turkey roasting guide for a guide on how long to cook your turkey.
2. Thaw Dinner Rolls (Thaw 2 ½ Hours)
Remove your rolls from the freezer and thaw on the counter for a couple hours. Then they'll be ready to pop in the oven while you make finally arrangements for the meal.
3. Bake Stuffing (Oven 1 ½ Hours)
A couple hours before the turkey is ready, remove the stuffing mixture from the freezer and break the frozen bread cubes up before adding to a pot with hot turkey stock (remember to use the stock you prepared for the gravy), butter, and beaten egg. Once warmed through, the stuffing goes into a baking dish and then to the oven. Follow the sausage stuffing recipe for guidance on completing the dish and heating Thanksgiving Day. You can slide the stuffing into the oven next to the turkey.
4. Heat Autumn Soup Starter (Stovetop 15-30 Minutes)
Your soup should be thawed and ready to warm on the stove. Start this whenever your guests seem to be getting restless.
5. Bake Mashed Potato Casserole (Oven 1 Hour)
Start baking your casseroles once the turkey is done and resting. Retrieve the mashed potato casserole from the fridge and bake uncovered. Keep the stuffing warm while the turkey rests and you finish your meal prep.
6. Bake Green Bean Casserole (Oven 1 Hour)
While baking the mashed potato casserole, you can also bake the green bean casserole that's stored in the fridge. Remember to add your crispy onions before popping it into the oven.
7. Assemble Salads
Begin assembling salads using prepped ingredients and roundup premade dressings. It's easy to enlist some help for this step.
8. Heat Gravy (Stovetop)
Warm the premade, refrigerated gravy on the stove and be sure to whisk it well until it's the right consistency, then cover and simmer to keep warm.
9. Heat Whipped Sweet Potatoes (Microwave)
These can be microwaved to heat through. Remember to stir frequently.
10. Heat Cranberry Sauce/Chutney (Microwave)
Similarly, you can microwave your premade sauce or chutney. Keep a close eye on it and stir often.
11. Heat Dinner Rolls (Oven 20 Minutes)
We're almost to the finish line! Pop your thawed rolls into the oven and heat for about 20 minutes, then keep warm. You can slice the turkey while they're finishing in the oven.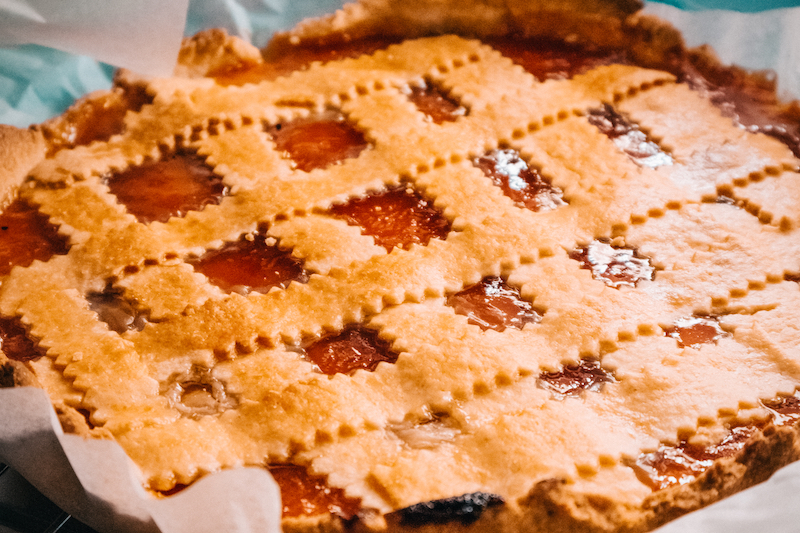 12. Bake All Pies (When Oven's Clear, 40-60 Minutes)
When the oven is empty, slip your frozen, unbaked pies in at 425 degrees for 20 minutes, then 350 degrees for the rest of the baking time (about 20-30 minutes). Remember to set a timer to check on them, or you might forget them during dinner! Your pies will be ready by the time the meal is over and your guests have room for dessert.
And that's how you pull off a make-ahead Thanksgiving dinner without the stress!
Don't Forget to Setup Your Autoship Orders for the Holidays!
Shop now and setup autoship at checkout. It's easy to get premium incontinence products discreetly delivered to your doorstep and on schedule!